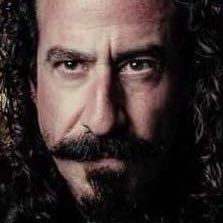 ARI LEHMAN
Bandleader, Composer, Singer, Keytarist
"The role of Jason Voorhees has become a legendary mantle in cinema, with many talented performers donning the hockey mask . ...But only Ari Lehman can claim to be the one that started the legacy of this iconic horror villain. " - Ethan Zack, Looper
 ARI LEHMAN (born May 2, 1965 in New York, New York) is an American performing artist, composer, and actor. He is best known for having played the first Jason Voorhees as a child in the iconic final Crystal Lake scenes in the Paramount horror film Friday the 13th. Lehman currently records and tours the US and Europe with his punk metal band, First Jason. 
A native New Yorker, Ari Lehman grew up in Westport, CT, where he trained in Classical Music and Jazz Piano. Lehman was presented with an All-State Award for Excellence in Jazz Piano and a scholarship to Berklee School of Music by the famous jazz educator, Dr. Billy Taylor 
After the release of Friday the 13th, Lehman returned to New York City where he enrolled at New York University and concentrated on Big Band Orchestration and Jazz Piano, "where he studied with the likes of Vladmir Shafranov. Lehman's career led him to become a prominent touring keyboardist for some of the top names in Reggae and African music of the time, with whom he toured throughout the US, Europe and West Africa, and recorded with at Tuff Gong Records and Interscope Records. 
First Jason has independently released fpur albums: Jason is Watching! (2009), with Chuck Lescewicz "Nefarious" from Chicago death metal band Macabre playing bass, and Amit Shamir "Cleaver" from New York hardcore band Cro-Mags on drums and "Heed My Warning,"(2013), described by Uber Rock (UK) as "a brand of thinking man's horror-themed rock." "To Be a Monster" (2017) and their most popular album to date "LORD OF THE LAKE" (2019) that contains the hits "KILL FOR MOTHER" and "VOORHEES IS THE NAME" which both have videos up on YouTube. Currently FIRST JASON has recorded two new songs that released recently called "THE PRICE OF PEACE" & "THE SCAPEGOAT". The video for "THE PRICE OF PEACE" produced by Camp Rattler drops on October 13 2021 
Lehman has also composed, performed and recorded a number of soundtracks for independent films, including Alexia Anastasio's critically acclaimed all-female "Salome", and Vamp Films "Vampire the Movie", "which won the 2007 Rondo Award for Best Independent Feature.