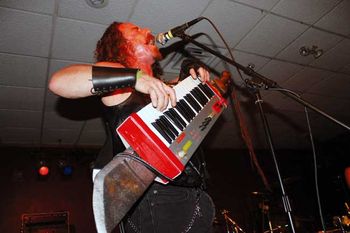 Ari Lehman, who played Jason Voorhees in the 1980 film "Friday the 13th," performs
Sunday with his band, First Jason, at Cheers Pub in Roseland. (Photo provided)
The "boy in the lake" has grown up and now has a metal band.
At the age of 14, Ari Lehman landed the role of a lifetime as Jason Voorhees in the 1980 horror film "Friday the 13th." Lehman left an indelible impression in the movie's famous final scene when Jason emerges from the chilly waters of Crystal Lake to pull the female protagonist out of her canoe.
"Friday the 13th" was only Lehman's second movie.
"I wanted to be an actor after I saw 'Star Wars' with my dad in Times Square," Lehman says. "I snuck into an audition that was going on in the town of Westport, Conn. Sean Cunningham, the director of 'Friday the 13th,' did a comedy about kids who play soccer, kind of a 'Bad News Bears' of soccer. It is called 'Manny's Orphans.' "
Lehman played Roger, a kid obsessed with girls, but the movie didn't do that well, so Cunningham came up with the idea for "Friday the 13th."
"He had seen the success of 'Halloween' and he thought up this title, 'Friday the 13th,'" Lehman says. "They figured they would need a kid to play young Jason Voorhees in Crystal Lake. At first they were considering Sean's own son, but his mother
vetoed that decision."
Lehman made a few more movies, but his heart was always in music. He was awarded a scholarship to Berklee School of Music and studied jazz piano at New York University.
"Even at that time, I was already studying jazz piano," Lehman says. "I was a little piano kid. That is where my head was at, in terms of really where my future was."
Interestingly, Lehman's professional music career began in reggae and world music.
"I was the keyboardist you would call if you came to New York from West Africa or the Caribbean, and you needed a keyboardist because of visa issues," he says. "I would work quite frequently with some of the top reggae and African artists."
After moving to Chicago in 2002, Lehman received an email from a "Friday the 13th" fan.
"A fan sent me an email asking if I autographed a photo of Jason Voorhees," Lehman says. "I was pretty shocked, because I had never autographed anything at that point. He said, 'I just bought this for $50 on eBay.' That brought me to an awareness of this whole horror scene."
While living in New York City, Lehman was turned onto such bands as Reagan Youth, Bad Brains, Dead Kennedys and White Zombie, and continued following punk and hard-core bands when he moved to Chicago.
Lehman created the metal/horror rock band First Jason to capitalize on his fame within the horror film community.
First Jason is a duo comprised of drummer Derek Macabre and Lehman singing and playing his "electric machete."
"It is an electric, heavy metal keytar on a giant machete with an LED Jason mask," Lehman says. "It is an analog keyboard that goes through guitar effects into a bass amp. It sounds as loud as a bass and a guitar on any metal stage, but it is a keyboard. I can do all kinds of great things with it."
First Jason released the debut album "Jason Is Watching" in 2009, and with such songs as "Jason Never Dies," "Sink or Swim" and "Machete Is My Friend," Lehman hewed close to the "Friday the 13th" concept.
"Heed My Warning" came out Dec. 13. And, yes, it was a Friday.
"That has a couple songs that are really straight-up about Jason, like 'Jason's Bride,' " Lehman says. "But most of the material on that one is more just dark lyrics. There is even a song with lyrics by Edgar Allan Poe. The Poe poem 'Dream Within a Dream,' we do an upbeat, punk version of that."
Lehman will sign autographs and "reminisce about Camp Crystal Lake and the good old days" at his appearance at Cheers Pub on Sunday night, and there will be a tasting of his hot sauce, Slasher Sauce.
And, despite his "slasher" past, Lehman promises that nobody will be killed.
"Boredom will die," he says. "We will kill mundane, humdrum boredom, for sure."  
(Source: TOM CONWAY Tribune Correspondent. in the bend, February 13, 2014. http://www.southbendtribune.com/entertainment/inthebend/eventnews/first-jason-takes-machete-to-metal/article_d31c6fda-949c-11e3-b43a-001a4bcf6878.html )