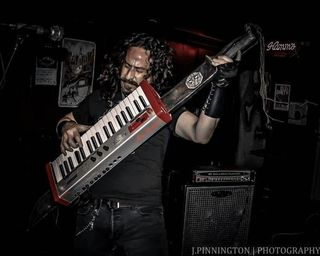 Ari Lehman, the actor who played Jason Vorhees as a child in "Friday the 13th," fronts First Jason.
 (J. Pinnington Photography)
NAPOLEON, MI – There has been countless reincarnations, but only one man can hold claim as the original Jason Vorhees.
Ari Lehman, who played Jason as a child in the first "Friday the 13th" film in 1980, is coming to a Jackson-area haunted attraction to shoot a music video, of all things.
A young Jason Voorhees (Ari Lehman) attacks camp counselor Alice (Adrian King) in a scene from "Friday the 13th."Paramount Pictures 
Lehman, 48, a Chicago resident, is part of the band First Jason, which will shoot footage for a video for the song "Victim" at the Corpse Barn Shock Haunt, 6220 Brooklyn Road, on April 25-27.
Clint Tacy, who co-owns the Corpse Barn with Brad Suydam, met Lehman at an event in Detroit a couple of years ago. The two began chatting through Facebook after Tacy noticed Lehman's band was looking for a location to shoot a video.
"Obviously, I'm a horror geek – as a fan, I'm very excited," Tacy said. "I'm also very excited to have this at the Haunt.
"It will be a fun event with like-minded people."
Lehman, a singer and keyboardist for First Jason, is a classically trained pianist, although the band's style is described as "horror metal." Lehman wields an over-the-shoulder keyboard with a custom-made handle shaped like that of a machete.
The premise of the "Victim" video will be Jason battling a mob of zombies. The cast will include Ladislav Beran, who played Karl Ruprecht Kroenen in "Hellboy."
The band is helping to finance the music video through pay-to-participate opportunities for extras. The majority of the shooting is scheduled to take place at the Corpse Barn Shock Haunt on Saturday, April 26.
Anyone interested should visit firstjason.com. For other questions, call the Corpse Barn at 517-206-3211.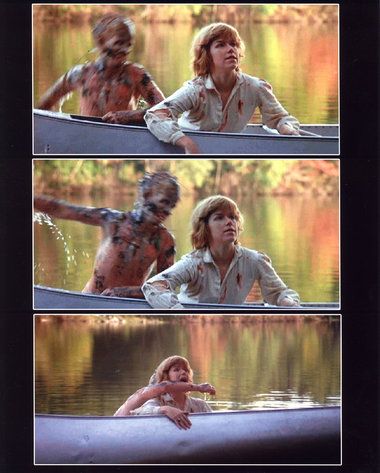 (Source: Jennings, Zeke. MLIVE.COM, April 12, 2014, http://www.mlive.com/entertainment/jackson/index.ssf/2014/04/original_jason_actor_from_frid.html )